Industrial 3D Rendering and The Ways You Can Use It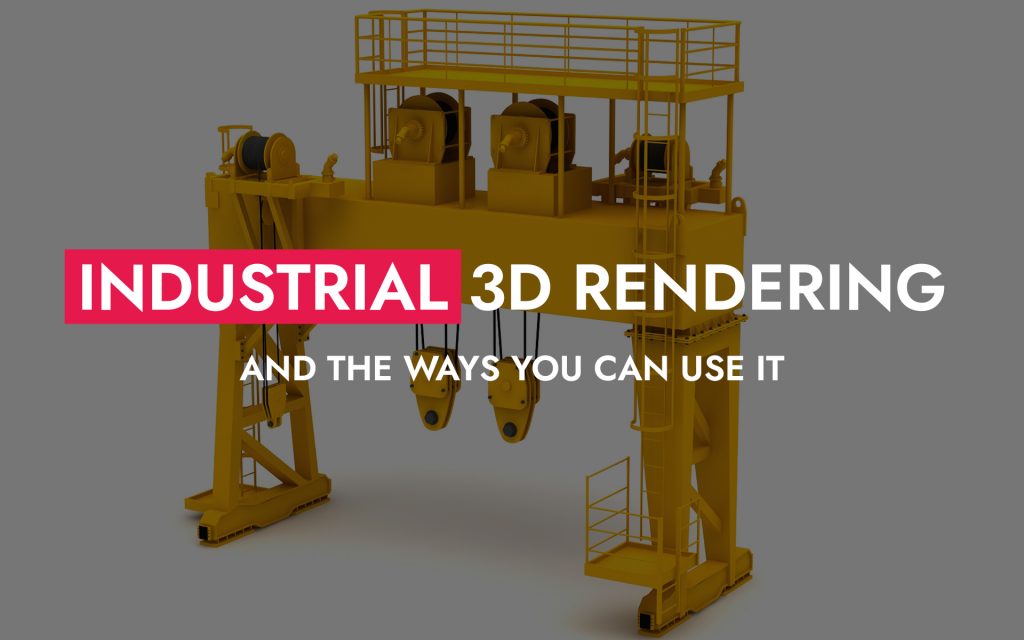 Industrial 3D Rendering and Its Main Features
Nowadays, it is hard to think of a sphere that does not use 3D industrial rendering. You can see it in movies, advertising, architecture, and video games, and the reason is that it gives you all the benefits of traditional photography without all its inconveniences. Industrial rendering can look very real or obviously artificial, depending on your purpose. 3D artists use advanced computer software to meet any requirement and create sufficient images of products, buildings, characters, and even people. The process begins with a 3D model, which is later improved by layers of lighting and details until it looks complete.
What Advantages Does It Offer?
The main reason why manufacturers find it so convenient is that it eliminates the stress of creating a setting and then photographing a prototype in order to start the marketing process. Instead of this, you can get a perfect image by hiring a 3D rendering agency and finding digital solutions for all your problems.
Therefore, one does not have to worry about production, shipping, or spotting vulnerabilities. This also means that you can find 3D artists based on their skills and talents, not on their location like you would with a photographer.
With industrial design rendering, you can pick the ultimate settings, shades, forms, and textures in digital format, and the real world will not interfere with your plans.
What Industries Can Rendering be Beneficial for?
Real estate is one of the leading markets for 3D product rendering because most business processes take place before buildings are constructed, so high-quality 3D visualization is crucial. With industrial 3D rendering services you can get proper images to show the investors you need to attract, the buyers you want to be interested or the partners you need to get involved in your project. Luckily, you can create stunning visuals nowadays without using boring paper models or sketches.
Real estate agents, homeowners, and those looking for property to buy also find 3D extremely helpful. You can stage a home virtually.
Entertainment is another area where 3D contextual rendering started a revolution, therefore, changing it forever. None of the video games about monsters would have been possible if it was not for 3D artists making them realistic. Of course, neither would the blockbusters about dragons and burning planes. The genre had existed before industrial 3D rendering services were invented, but only due to the latter, filming these scenes is now relatively easy and cheap. They had never looked so realistic either.
3. Architectural 3D rendering
Before, we have mentioned how important industrial building 3D rendering is for real estate, and the same can be said about architecture. For instance, if you are an architect and want a firm to accept your project, you can now convince them with a sufficient rendering of what it will look like with the help of industrial design rendering software.
With the help of industrial design rendering software, clients are now able to understand the concept and see the finalized image before deciding whether or not to invest in the project.
Designing interiors is a job that requires distinctly visualizing what a space will look like before you start the project. All the small and allegedly insignificant details may turn out to be very important for a client and, therefore, require a lot of attention. Designers had to achieve this goal by making scatches, mood boards, applications, and collages in the past, but now all they need is 3D industrial building rendering.
High-quality renders allow interior and exterior designers to make comprehensive and detailed models they can show to customers.
Regardless of what sort of product a manufacturer creates, 3D industrial rendering can make all process stages easier. You can create a model once you come up with a concept and use it to attract investors or even for advertising. Every product benefits from constant improvements, and product rendering makes changes easy to implement. Therefore, you can raise the quality of your product, diminish the expenses and decrease the amount of time needed for product design.
It is not as obvious how medicine and 3D renders are connected as well as other businesses, but they truthfully are. Nowadays, most prosthetic limbs are created from a 3D model, which allows clients to get custom-made artificial limbs from various materials that perfectly fit their bodies.
Virtual Reality technology is also commonly used in the medical sphere. For instance, 3D renderings are applied in surgery simulations so that a doctor in training gets a sufficiently realistic experience without putting any patients at risk.
It shows how applying scientific research and scientific equipment in a proper way can actually change the world and make people's lives easier.
As we mentioned earlier, the possibility of creating stunning visuals of a product is beneficial in advertising. It makes branding much easier and helps find efficient solutions that appeal to customers.
How to Leverage Your Expertise
3D industrial rendering can be applied in all manufacturing spheres: for creating a concept, industrial machinery, eliminating mistakes, and creating replacements. It is now commonly used for architecture and real estate, marketing and manufacturing, creating medical devices, and making films. All industries aim to find ultimate solutions that will help them with logistics, prices, or time-efficiency, and in most cases, three dimensions can do just that.
3D industrial rendering is a relatively new technology that has already managed to become so commonly spread that most industries find it crucial. There is no doubt that five years from now, most of our problems will be solved digitally, and using 3D visualization experience today to upgrade your business is the right step in that direction.
Drop us a line or give us a ring. We love to hear from you!