Kitchen 3D Rendering and The Benefits It Brings
Kitchen 3D rendering allows you to upgrade your kitchen planning and boost your real estate sales.
Rendering Solutions for Your Kitchen
Kitchens are, of course, a crucial part of any home. If you are looking for a home to buy or rent, you will pay a lot of attention to what the kitchen space looks like. It must be comfortable, spacious, cozy, and meet all of your specific requirements if you are building a house or starting a major renovation. In that case, the kitchen is an exceptionally responsible part as the furniture there is primarily static and has to be coordinated with all sorts of kitchen appliances. All mistakes and miscalculations are, therefore, very dramatic. So how do you make sure that your kitchen is chosen, planned, or showcased right with 2d and 3d.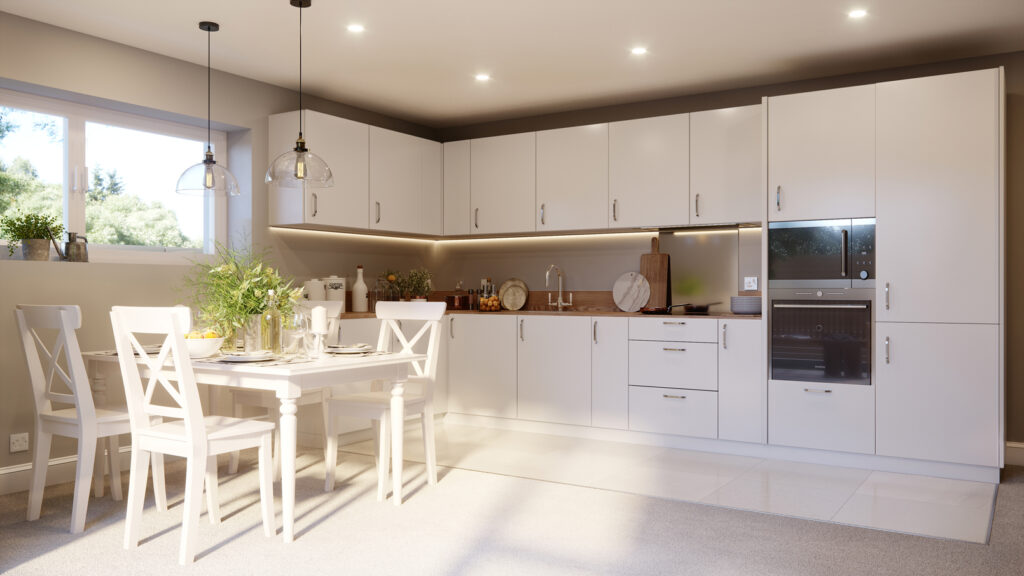 Kitchen rendering services are the ultimate answer. Nowadays, kitchen design programs have already become an integral part of 3D floor plans, architectural visualization, real estate, and the interior design process. Modern technology and skillful 3D artists have made it possible to create highly realistic images and combine them into a sufficient virtual tour or a 3D walkthrough experience. A 3D visualization company can help you see what the alleged changes might look like or show it to clients. After all, a kitchen must be where you find comfort.
Another thing one must understand when planning a cooking space is that besides design ideas and being stylishly furnished, basic features must also be very convenient. All materials matter, such as the distance between cupboards, how slippery the floor is, how stain resistant the space near your cabinets is, etc. These details like countertops may actually turn cooking into a nightmare unless you focus on them. With kitchen layouts, you can not only calculate all these things but also see with your eyes how various pieces of furniture and appliances will look together and cooperate in real life.
Which Tools Can Help You with Kitchen Planning?
Modern kitchen 3d rendering software allows you to solve all 3D design issues without any fuss. Let us take a look at various design tools you can use.
You have an opportunity to work with a professional virtual interior designer and get feedback on all of your ideas. A 3D artist can find the best solutions for fixtures while still listening to your heart and your vision with the best kitchen design software to make it both comfortable and stylish.
Floor plans, as you know, are just plain pieces of paper with drawings and numbers on them. A 3D floor plan, on the other hand, is a sufficient 3D model of what your dream kitchen will look like. A 3D render of an interactive floor plan will allow you to include details and see them function. Try 3D Visualization of a living room.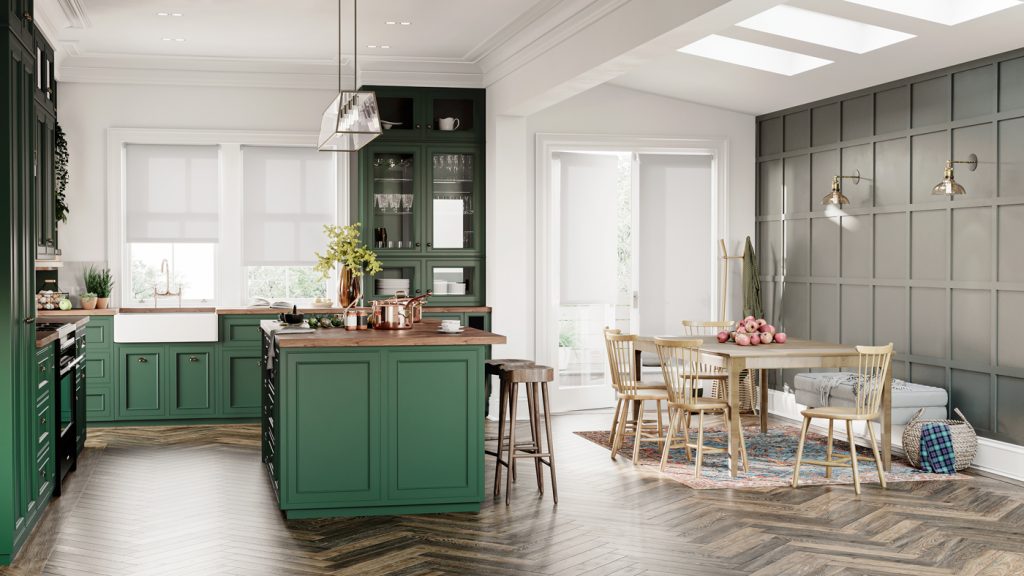 Real estate agents most commonly use this approach, but you will benefit a lot as a buyer or homeowner. An animated kitchen VT allows you not only to see the finalized look of a room but also to interact with it, pay attention to textures, go wherever you want and make changes. Instead of just looking at plans and pictures, you can actually walk through the place and, very importantly, be able to feel the atmosphere of the surrounding.
4. Designing from scratch
Of course, this is an ambitious decision, but there is nothing impossible with our kitchen rendering services or 3d bathroom rendering. You will have plenty of tools for complete customization at your disposal and all the guidance of professional designers you require to create your automatic kitchen space. Our user-friendly interface makes kitchen designs easy to work with, regardless of your experience and whether you have any.
Why You Need 3D Rendering in Real Estate
There are multiple advantages of using CGI in real estate. No matter if you are a real estate agency, a homeowner, a tenant, or a buyer, CGI, will cut the required time in half.
1. You can add some style
With modern technology, it is no longer necessary to make changes in an actual house to sell it better. You can just make adjustments digitally if you use CGI. Sometimes you might have to freshen the wall colors, and sometimes it may be a good design idea to add trendy kitchen furniture. Regardless of what you want to change, it is easy and fast with advanced rendering. Imagine how hard it would be if you had to make actual changes to fit each client's requirements. Luckily, it is in the past.
There is nothing hard about showcasing a house if it looks perfect. Usually, it is not the case, though. Most houses a firm has to sell are either underbuilt or in bad condition. In this case, you have to show alleged buyers not the place itself but kitchen staging ideas of what it may or will look like. You do not create an illusion; instead, look into the bright future it offers. Naturally, CGI is the only way to do this.
3. Focusing on how functional the space is
As we mentioned earlier, comfort and practical decisions are critical when staging a kitchen for a home sale. With a detailed architectural rendering kitchen and great interior design software, you can create a visualization that allows viewers to interact with what they see and check how convenient the interior design is.
4. Adding expensive kitchen appliances
A kitchen is just as luxurious as its cooker, fridge, stove, or toaster. Of course, one would have to pay an enormous price to actually put this in a kitchen before showcasing. Furthermore, it would make little sense because people's eating habits vary a lot, so you never know if a person needs a coffee machine or a juice maker. However, CGI allows you to make a kitchen look marvelous by adding your kitchen staging ideas, and it will not cost you an arm and a leg.
Drop us a line or give us a ring. We love to hear from you!