Photorealistic Architectural Rendering for Various Purposes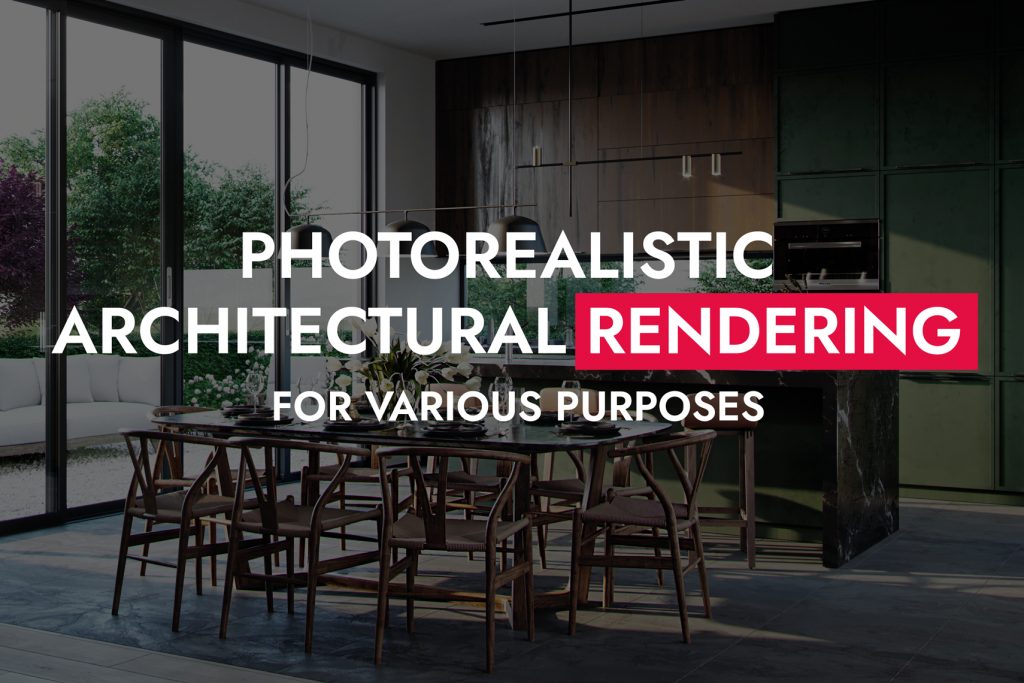 What Is Photorealistic Architectural Rendering
Are mostly used instead of photography when you need visualization of projects that have not been started or finalized yet. Photorealistic architectural visualization is a cost-efficient solution that is both efficient and impressive for your client. This is the best way for your customers to get a clear vision and all the necessary details about what the project will look like once it is done.
So what is photorealistic architectural rendering? Photorealistic architectural renderings created with special software can be categorized in correspondence with the goal it fulfills. The difference is mostly about the kind of object you work with and the kind of development it is going through. Let us take a look at various types of photorealistic rendering.
1. Commercial Exterior Visualization
It has always been important for businesses to achieve an impressive and serious look. Exteriors, therefore, have crucial importance for every company's branding and business centers. Designers have their trustworthy exterior elements to make a building appropriate for this purpose: a lot of glass and lighting scenarios, elegance, and minimalism should work in harmony to create a signature look for your company.
Architects and designers used to have to make endless sketches and drawings to show to customers. Now you can show them a photorealistic image of your project and easily make adjustments if they do not like something.
This 3D Rendering will Show
How well the building is integrated into the surrounding landscape
How it corresponds with the image and uniqueness of your business
In which ways it will be appealing to your customers specifically
A photorealistic architectural rendering like this includes all of the information you might need about the measurements and different materials. It will be enough to let a client understand what to expect and will let you omit any unpleasant surprises.
2. Residential Exterior Rendering
Residential exterior architectural rendering is very helpful to architects and designers that want to find investors or buyers for their projects. It lets you use residential exterior renders that look as realistic as a photo of a finalized building would. A photorealistic architectural rendering includes all the details, such as measurements, textures, lighting, and design. It also allows you to see what the building will look like in its surroundings and how it will coexist with the objects around with photorealistic landscape architecture rendering.
A 3D agency must also work on creating an atmosphere and showing what one's life might look like in the house they are looking at. Adding minor touches such as pets, backyard barbeque sets, plants in the windows, or shopping malls around can have a strong emotional and visual impact on viewers and make your residential rendering architectural photorealistic.
3. Commercial Interior 3D Visualization
Integration has crucial importance when it comes to commercial projects. The interior does much more than just reflect someone's tastes or interests in these projects. Instead, it should harmonically fit into the photorealistic environment and become a logical continuation of the exterior. Photorealistic renderings can help with achieving this task as it shows you the whole picture and lets you see how various objects and colour schemes work together.
A commercial interior rendering must have a custom design so that it tells visitors about a firm's values and architectural style. Details are an adequate tool for implementing branding and product marketing into your interior solutions and making a residential rendering architectural photorealistic. As commercial clients understand their concept more than anyone else, they will find it convenient that architectural renders make changes and improvements easy and fast to make.
4. Residential Interior Rendering
This kind of interior design has to be created with the thought of the people who will live there. It is about comfort, coziness, and the possibility of showing the owners' individuality through the objects they use every day. In real estate, various rooms need utterly different approaches, though each home must have a concept that is obvious in every element of every room.
This extremely difficult task can be pursued with a photorealistic architectural rendering for homes. One can make a sufficient visual of what the rooms, layout, lighting, and colors will look like and then let clients offer changes. Detail such as flowers, candles, or toys can make potential buyers fall in love with a home they are considering.
With interior renders, a person can walk through all rooms and see the objects from different perspectives and even with different weather outside. Non photorealistic rendering architecture does not offer this feature.
When we speak about hotels, the primary purpose of a photorealistic architectural visualization is to show the shared concept of both its interior and exterior. CGI allows clients to see all the benefits of a hotel and appreciate all the details they might find appealing. Rendering allows you to show what the rooms look like during the day and during the night and how the exterior changes in different weather conditions.
When looking for a hotel, customers pay attention to various areas they can use for rest, sports or fun. With an aerial view, you can use CGI to show all the advantages and details of your lounge zones, reception area, and outdoor zones. Images of a spectacular restaurant with impressive interiors and elements such as flowers or candles can be very convincing for potential clients. You can even add people to make it all easier to comprehend. Adding elegant music to your architectural visualisation can add class and overall atmosphere.
It is a lot easier to make big decisions and make a good business plan when all details are taken into consideration. You see a clear floor plan, ceiling plans, and interior and exterior details. That can significantly reduce the price and the time you have to spend on your architectural projects.
Drop us a line or give us a ring. We love to hear from you!